August 2023 – Digital Travel Asia
Your only opportunity to learn from and network with Asia's most progressive travel leaders at one time
Digital Travel APAC is the region's travel event where the ambitious and digitally savvy business leaders and marketing, customer experience, digital transformation and eCommerce heads meet.
Led by those both directing and implementing new strategies and technologies, the event's agenda is based on extensive research with hotels, airlines, OTAs, tourism boards, and tour and activities operators from across the Asia Pacific region. The event's topic and speaker lineup deliver fundamental case studies from travel operators rather than vendors' mouths. And the content development is supported by the event's Advisory Board, consisting of key players, including Airbnb, Wyndham, Tourism Board of Thailand, Oberoi Group, HK Express, Go City, Japan Airlines and Hong Kong Tourism Board.
Only at Digital Travel APAC can you learn from, network, and collaborate with the industry's most knowledgeable thought-leaders, now expanding their brand's reach and increasing customer acquisition through digital innovation.
* Scaling a Tech-led Brand to Achieve Sustainable Growth & Innovate During Disruptive Times
* Leveraging Data-Driven Insights to Create the Customised, Seamless Trip
* Collaborating to Build Sustainable & Community-Centred Travel Experiences
* Tapping into New Travel Trends & Partnerships to Maximise Customer Loyalty & Engagement
Quote "TD20" at checkout for 20% off prevailing ticket prices!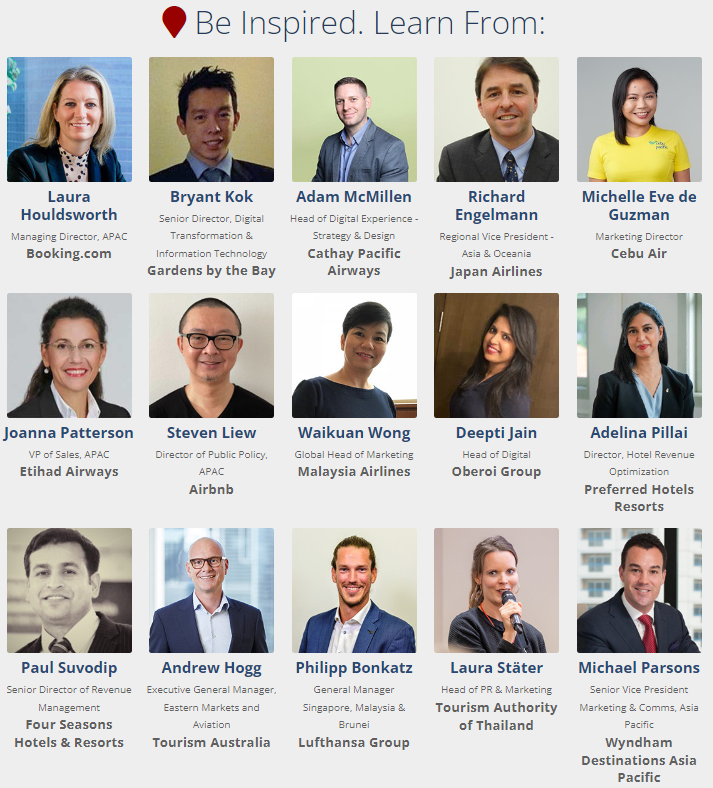 Pre-Conference Day
Monday, 14th August:
Technology Evaluation & Benchmarking Focus Day
Determining Your Wish List for Partnering With New Technologies
Meet The Technology Platforms
Main Conference Day 1
Tuesday, 15th August
Achieving Growth During Disruption
Seamlessly Connecting the Customised Trip
Ensuring the Seamless Flying Experience Takes Off
Strengthening Guest Loyalty & Partnerships
Promoting a Community-Centred Destination
Supercharging Personalisation through AI & Analytics
Main Conference Day 2
Wednesday, 16th August
Scaling Tech-Led Brand & Business Expansion
Accelerating Market Opportunities
Advancing Digital Transformation & Rewards for All
Digital Marketing Mixes to Retain & Recruit Customers
Designing for Wellness Tourism & Nomad Travel
Collaborating to Capitalise on Cross-Border Opportunities
Quote "TD20" at checkout for 20% off prevailing ticket prices!