British Airways helps former police officer achieve his ambition of flying again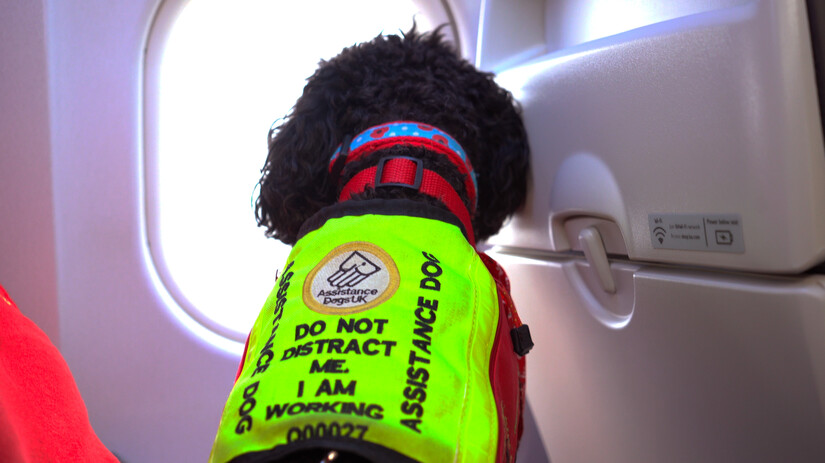 British Airways has proudly assisted customer Brian Hickman to take his first flight in 15 years, accompanied by his service dog Lily, after he got in touch with the airline to ask for help fulfilling his dream of flying again, and showing others that flying can be accessible to everyone.
Brian suffered life-changing spinal injuries 15 years ago whilst on duty as a police officer. With the help of the charity Dog A.I.D, Lily the cockerpoo was trained to become a fully qualified and certified service dog. Lily helps Brian with day-to-day practical tasks and supports his independence by alerting him of any nearby dangers such as trip hazards, meaning Lily is essential to Brian when travelling.
Brian was keen to embark on his first flight since his accident, to understand the end-to-end journey of flying with a service dog, regain his confidence to take to the skies and raise awareness to other service dog users that flying with additional requirements can be a stress-free experience.
Following his successful journey to Newcastle, Brian now has the confidence to fly again with Lily by his side and is planning to go on holiday later this year.
Speaking about his journey, Brian Hickman says it has opened up a whole world of opportunities for him to travel: "Everyone from British Airways was so nice and helpful from start to end of our journey. It was a day to remember for all the good reasons. Lily and I had a great day out and I now know we can fly whenever we want to."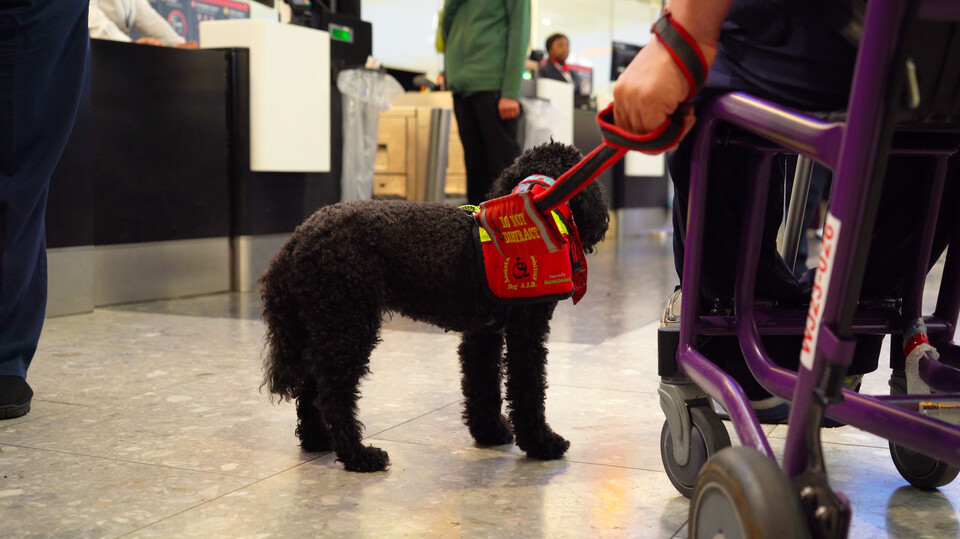 Calum Laming, British Airways' Chief Customer Officer, said the BA team was proud to help make Brian's ambition a reality: "We believe our original British Airways service should be accessible to everyone, we know there is more to do and we're working hard to continuously improve to become the airline of choice for all customers with visible and non-visible disabilities.
"Seeing Brian gain the confidence to fly again after 15 years was really heartening and his journey with Lily really sums up what we're striving for at British Airways – to ensure that our customers who require additional assistance can travel safely, with dignity and in comfort."
More than 1,000 British Airways customers travel with a service dog each year, with service dogs travelling free of charge in the cabin of all flights. All customers need to do to book the service is to contact the airline's dedicated Accessibility team in advance of their journey.
British Airways carries more than half a million customers who require additional assistance every year. The airline has invested in a range of services to support customers with accessibility requirements and has a dedicated Accessibility team to provide specialist support for anyone who needs it. The airline offers assistance with mobility, visual impairments, hearing impairments and non-visible disabilities.
The team can also help customers make new flight, hotel and car hire bookings, arrange bespoke assistance, pre-book seating, inform airport staff and Cabin Crew about specific requirements, and provide information and support to empower customers to have the confidence to fly.