Mastercard and Nirvana Travel and Tourism partner to provide innovative payment solutions
Mastercard and Nirvana Travel and Tourism – one of the UAE's travel and tourism management company – have joined forces in an exclusive collaboration aimed at providing a unique payment solution to customers who book travel services in the UAE, Saudi Arabia, Egypt and Jordan. This is a game-changing collaboration that will revolutionize and further facilitate travel for both the corporate and leisure traveller, making it easier and more convenient than ever before.
Leveraging Mastercard's cutting edge technology, the partnership is all about digitizing the end-to-end payment experience for both consumer and commercial transactions across Nirvana's value chain, providing customers with unmatched convenience, security and flexibility, whether they are booking flights, hotels or other travel services provided by Nirvana. In addition, corporate clients can benefit from integrated travel expense management solutions.
"At Mastercard, we recognize travel as a key passion point, and we know that safe and secure contactless payments have an important part to drive superior customer engagement. We are delighted to collaborate with Nirvana Travel & Tourism and its group of companies, as one of the top travel agencies in the UAE, as their strategic digitalization partner, and look forward to providing their corporate and retail clients with innovative solutions for a seamless experience," said Amnah Ajmal, Executive Vice President, Market Development, Eastern Europe, Middle East and Africa, Mastercard.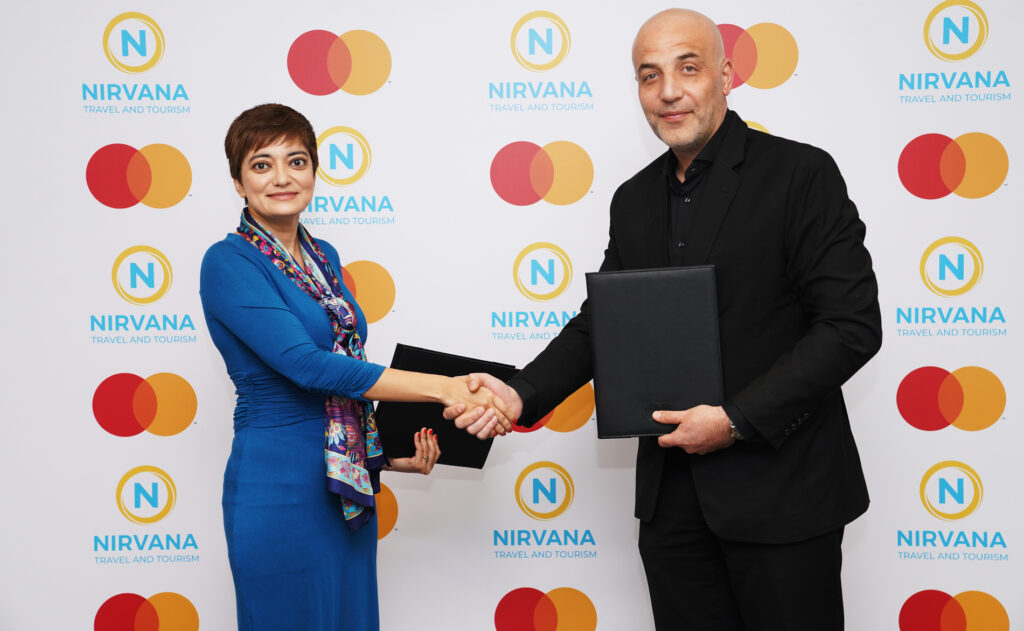 Comprising four large-scale independent entities – Nirvana Travel & Tourism, Nirvana Global Travel, Nirvana Over the World and Nirvana Tours & Logistics, Nirvana's group of companies is one of the UAE's biggest homegrown online travel and logistics service providers with more than 70 branches worldwide. It is a leading travel agent for Emirates and Etihad in the country and a key service provider for many UAE government entities.
"We always look to develop advanced and state of the art solutions to further enhance our customer's journey, and by collaborating with a globally renowned and customer focused name like Mastercard, I believe we can take our customer's experience to elevated levels of excellence" said Alaa Al Ali, CEO of Nirvana Holding.
Nirvana also offers travel management and planning, innovative corporate travel solutions, visa processing, concierge assistance, event logistics, retail and wholesale services, first-class and VIP services for diverse private, government and semi-government clients.
The expectation for travel in 2023 is no less than that of last year. According to an analysis by the Mastercard Economics Institute, global leisure travel remains robust, up roughly 31% in March 2023 compared to the same period in 2019, representing an impressive 25% year-over-year-to-date change from 2022 to 2023., signalling continued robust demand after a strong first half of the year despite rising economic challenges.  The 'Travel Industry Trends 2023 report also signals continued robust demand by the help of outbound tourism expenditures from mainland China getting closer to pre-pandemic levels. By March 2023, Chinese spending on experiences abroad surged from virtually zero last year to now just below where it was in 2019.