TUI announces Ant & Dec as their 'Happiness Ambassadors'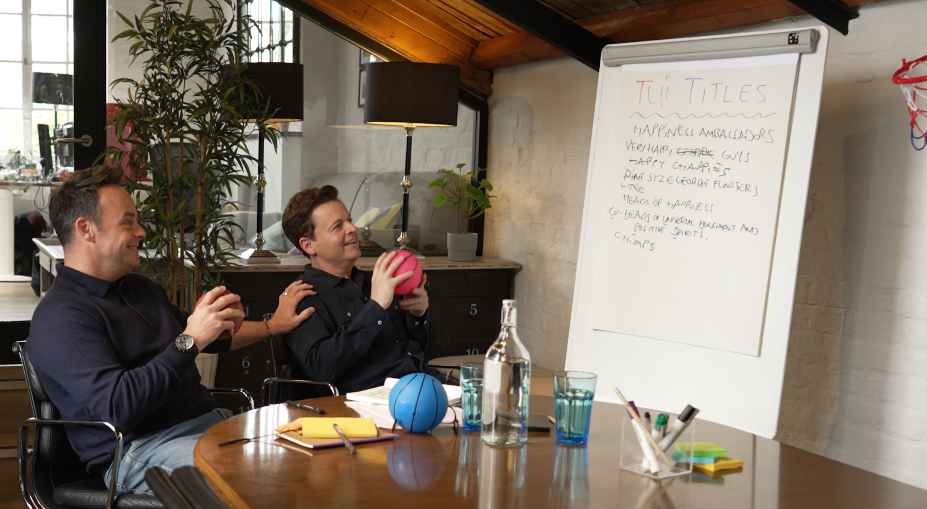 TUI UK has appointed the nation's favourite duo, Ant & Dec to bring holiday inspired fun and smiles to Brits. The Geordie pair will share their mischievous plans as they define their new roles as TUI's 'Happiness Ambassadors'.  
Launching on the 28th June, the social media campaign will focus on how TUI create 'happy' every day. In a cheeky and entertaining way, Ant & Dec brainstorm their new job title, creating the perfect holiday pitch, and dial up the holiday inspo with TUI's retail agents and cabin crew.
The social content focuses on the moments customers experience before they step foot overseas; from the planning and booking and just before they jet off, at the airport. Ant & Dec have a lot of fun creating extra happy moments every step of the journey in a surprising and memorable style.
The campaign, a creative co-production between Ant and Dec's Mitre Studios and Leo Burnett London, is set to run across TUI's and Ant and Dec's social channels from 28thJune for six months. Be sure to follow @antanddec and @tuiuk to find out what they've been up to from today.
Andrew Flintham Managing Director at TUI UK commented: "Ant and Dec are the perfect pair to showcase what our Makers of Happy do every day; delivering the best possible experiences for our customers. The partnership has come at an exciting time for TUI as our customers cannot wait to create amazing holiday memories. It's brilliant to be working with Ant and Dec as they really are the happiest people on TV and are already sharing some great ideas on how we can bring even more fun to the holiday experience."
Ant says: "We have worked successfully with TUI in the past on Saturday Night Takeaway so we were delighted to be invited to become their Happiness Ambassadors and create some fun content around their staff and customers as they plan holidays this year. 
Dec adds: "We have loved working collaboratively with everyone at TUI and getting to know the team even better. We hope what we've created brings a smile to people's faces and spreads a little happiness from the start to the finish of this year's holidays."